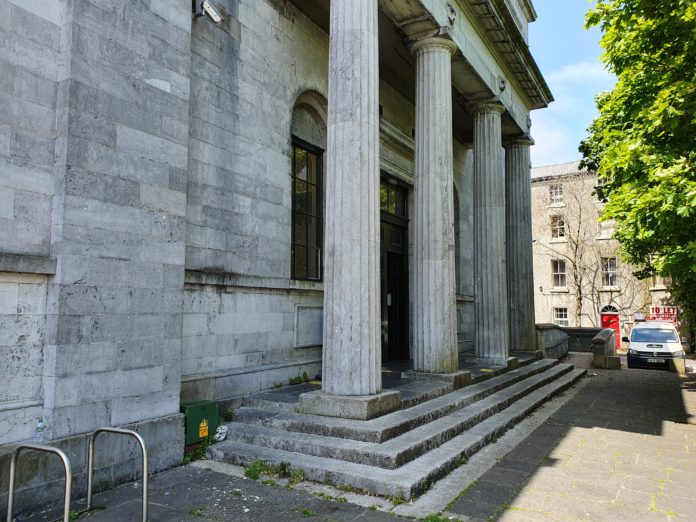 A 63 year old man was sentenced to a total of nine months in prison for smashing shop windows and defecating in a taxi, among many other offences.
Michael Reilly, of Tawin, Maree, Oranmore was sentenced in relation to a multitude of criminal damage, making off without paying taxi fare, and public order offences at Galway District Court, along with breaches of COVID regulations.
He was before the court for sentencing on a guilty plea to all charges. The large number of offences cover a period from mid 2018, to as recently as August of 2022.
The largest sentence was in relation to criminal damage at Terryland Fruit & Veg on the Headford Road, where Reilly smashed nine glass windows on the storefront on July 8 of 2018, for which he received five months in prison.
In another incident at CEX on Williamsgate Street on August 1 of this year, the court heard that Reilly was being aggressive towards staff, and swinging his crutch, after previously being told to leave the area.
He was sentenced to two months for failing to follow the directions of Gardaí, with a concurrent one month sentence for threatening, abusive, or insulting behaviour.
On February 7 of 2021, a taxi driver came to Mill Street Garda Station alleging that a passenger was not paying his fare. Reilly was found asleep in the car.
For this incident he received a one month sentence for criminal damage after defecating in the taxi, as well as a concurrent one sentence for not paying a €253.40 fare, and another month concurrent for stealing €8 from the taxi driver.
The final consecutive sentence Reilly received was one month in prison for threatening, abusive, or insulting behaviour at Mill Street station.
On July 8 of this year, Garda Niall Walsh was in the station when he heard a man shouting shortly after 6pm. He found Reilly outside, yelling that the Gardaí were, "nothing but a pack of c***s."
Another one month concurrent sentence was imposed for smashing the front window of the Yankee Candle store on Abbeygate Street on January 27, 2021, causing €230 worth of damages.
And a final concurrent sentence was imposed for another incident of making off without paying a taxi fare of €19.40, and another of the same offence for €40 was taken into consideration.
Reilly also received multiple fines for breaching COVID regulations by travelling without a reason during the lockdown.
A psychiatric report before the court said that Reilly did have manic episodes that could be indicative of late onset bipolar disorder.
Judge Fahy remarked that there was no prospect of the money related to the criminal damage and making off without payment being recovered.
The judge also took into consideration a vast number of incidents of being drunk in public to the extent that he was a danger to himself or others.
Mr Reilly became agitated at the end of the sentencing hearing, yelling at his solicitor and stating that he had not pleaded guilty to any of this.
Leave to appeal was granted by the court on Mr Reilly's own bond of €400, and an independent bond of €1,000, half of which were to be lodged with the court.