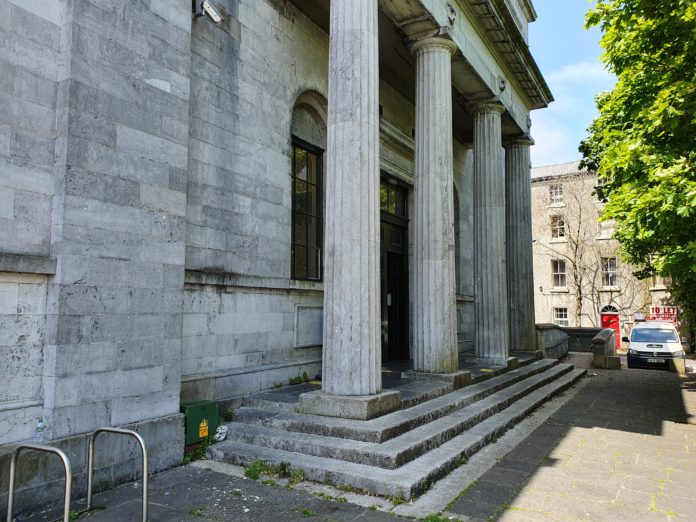 A man who threatened to behead two Gardaí with a machete was sentenced four and a half years in prison at Galway Circuit Court.
The court heard that Kevin Barry, of no fixed abode, threatened two Gardaí responding to a domestic disturbance that he'd stab them, kill them, and cut their heads off.
The 44 year old man appeared before Galway Circuit Court for sentencing this week, after pleading guilty last July.
Barry pleaded guilty to two counts of making threats to kill, and one count of producing a weapon capable of inflicting serious harm.
Garda Patrick Foley told the court that on April 17 of last year, at approximately 7:25pm, Gardaí received a 999 call about a domestic dispute.
The caller said that Barry was in his mother's house at St James' Crescent, Mervue, threatening his sister and 74 year old mother.
A patrol car was dispatched, and when Garda Evan Hennelly and Garda Nollaig McAndrew arrived, they found Barry's sister in the front garden, who told them he'd been making threats.
As they arrived, a good samaritan neighbour was also taking his older mother out the front door and away from the house.
The two Gardaí approached the front door, and knocked several times before Barry answered. He refused to answer their questions about what was happening, becoming increasingly aggressive before yelling and slamming the door in their faces.
The two officers backed off to the front of the garden and called for another unit for backup due to how aggressive he was.
This is when Barry came out the front door armed with a machete and began walking towards them.
Garda Foley told the court that he then pointed the machete at the two Gardaí and yelled, "I'll effing stab ye", "I'll cut your effing heads off", and "I'll kill you".
They began backing away towards their patrol car, and called for an armed support unit, while Barry continued to follow them with the machete raised, making more threats.
After the two officers got in their patrol car, Barry began walking towards the neighbouring Loughnane Terrace estate.
He was intercepted en route by the armed support unit, who pepper sprayed him to no effect after he refused orders to get on the ground.
They were eventually forced to tase Barry in order to subdue him. The machete was not found, and Garda Foley said that it was believed he may have dropped it, or someone else who arrived may have taken it.
Written impact statements from both Gardaí were read into the court.
In her statement, Garda Nollaig McAndrew said that this was the first time in her 15 years as a Garda that her life was threatened.
She said that Barry became aggressive "without provocation", and that she fully believed he would carry out his violent threats.
Garda Evan Hennelly also wrote a statement for the court stating that they spoke calmly with Barry to try and defuse the situation.
He said that this has left a "lasting fear" when he is responding to domestic incidents, or incidents where a suspect is armed.
Defence barrister Michael Clancy BL said that his client wished him to apologise to both Gardaí.
He said that this began as Barry was discussing a family matter, and escalated out of control, and that he is very remoseful.
Mr Clancy said that his client had a traumatic upbringing, and that the probation services have said dealing with this may help with his addiction issues.
The court heard that Barry had 99 previous convictions, including five for possessing or producing a weapon, and three for assault causing harm. In addition, he was on bail for other matters when this occurred.
Judge Brian O'Callaghan said that hearing about this "asks the question, 'who would become a Garda'; but it also highlights what good they do in our society."
He added that the unnamed neighbour, "should receive nothing but the highest regard from the court".
The judge noted that Barry has received support in the form of residential rehab, drug counselling, and methadone in the past, but has continued to carry on like this.
He also said that there was no explanation as to why Barry had a machete, calling it "akin to having a loaded gun", as the injuries it could cause can be just as fatal.
He sentence Barry to four and a half years on each of the charges of making threats to kill, with the final 18 months of each sentence suspended for three years.
Judge O'Callaghan said that he was "almost reluctantly" having the two sentences run concurrent to one another.