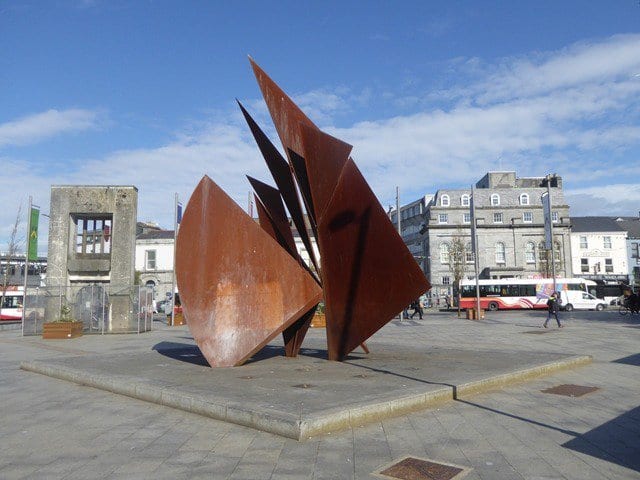 A drunken brawl between two men in Eyre Square last August that was caught on CCTV was hardly enough to make "Mike Tyson shake in his boots" Galway District Court heard this week.
Pa McCarthy (31), with a former address at Seaman Drive, Riverside, Galway City pleaded guilty being intoxicated in public to such an extent that he was a danger to himself or others, as well as the use of threatening, insulting or abusive words or behaviour under the Criminal Justice (Public Order) Act 1994.
However he contested, and was ultimately acquitted, of the charge of affray on the grounds that other members of the public were not in fear for their safety.
Garda Dermot Brennan told the court that on August 14 last year, at 8:50pm, he was directed to Eyre Square where two men were reportedly fighting in public.
Upon arriving he found two men, both extremely drunk, shouting at each other and bleeding from facial injuries.
CCTV footage was played for the court which showed McCarthy and other man drunkenly boxing each other for a number of minutes on the grass in Eyre Square.
Members of the public went about their business and ignored them as the fight continued, until Gardaí arrived after several minutes.
Commenting on the footage shown, Ms Oliva Traynor, defence solicitor, said "I doubt my client is going to win any awards for making Mike Tyson shake in his boots".
She asked the judge to dismiss the affray charge on the grounds that no other person was put in fear by the incident.
The charge of Affray under Section 16 of the Criminal Justice (Public Order) Act 1994 requires two or more people using or threatening violence against one another, where their conduct is: "such as would cause a person of reasonable firmness present at that place to fear for his or another person's safety."
Ms Traynor highlighted that Garda Brennan was called to the scene as the incident was being monitored live by Gardaí on the CCTV camera, but that no member of the public called Gardaí about the incident.
Inspector Des Beirne said that McCarthy and the other man were engaged in unlawful violence in a public place, with other people around them, which was the basis for the charge.
Judge Marie Keane said that it was "extraordinary" that people were simply walking past this fight as if nothing was happening, but that the evidence doesn't meet the threshold required for Affray.
She dismissed that charge, and convicted him on the other two public order offences.
The court heard that McCarthy has an extensive criminal history, predominately public order and thefts, and is currently serving a ten month.
Judge Keane sentence him to three months in prison for the threatening, abusive, or insulting behaviour, to be served consecutive to his current sentence, with the public drunkenness charge taken into account.
Leave to appeal was granted, with recognisance of his bond of €100.