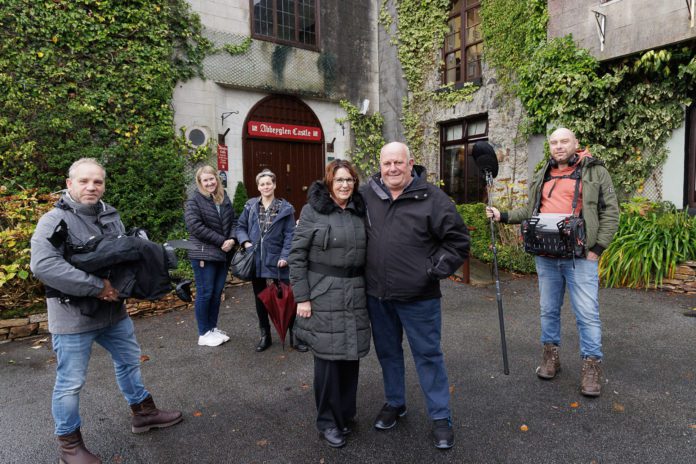 Around 3 million people in the Netherlands were treated to the stunning scenery of Galway and Connemara this week when an episode of a reality TV dating show aired on NPO 1, the oldest national Dutch TV station.
A TV crew arrived in Ireland in November as guests of Tourism Ireland and Fáilte Ireland to film an episode of Boer zoekt Vrouw (The Farmer Wants a Wife), one of the most popular Dutch TV programmes.
The show is all about single farmers meeting a number of potential partners. The farmer and his 'favourite' partner then go on a dream date to an overseas location.
Boer zoekt Vrouw is one of the top reality TV shows in the Netherlands, attracting around 3.2 million viewers each week.
Viewers saw the couple – Hans De Roover and Annette Verschuure – enjoying dinner on their 'dream date' at the Abbeyglen Castle Hotel in Clifden.
During their date they also joined local fisherman John O'Toole for some lobster fishing, took in a putting lesson at Connemara Championship Golf Links and enjoyed live music in Lowry's Bar in Clifden. 
Karen van der Horst, Tourism Ireland's Manager for Northern Europe, said that Boer zoekt Vrouw is really popular in the Netherlands – "so this was a fun and different way to showcase Galway and Ireland, and some of the many things to see and do here, to a huge audience of potential Dutch holidaymakers."
"TV and film are strong influencers on prospective holidaymakers and Tourism Ireland regularly works with TV and production companies around the world, to facilitate the making of travel and lifestyle programmes and films around Ireland.
"It's a really effective way to get positive exposure for the destination."