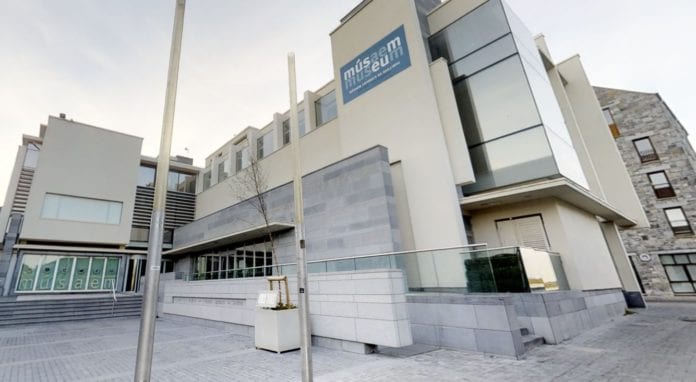 Galway City Museum is welcoming visitors back to explore the history of Galway from next week.
The Museum is opening its doors to the public once again from 10am on Tuesday, May 18.
For now, visitors will have access to the exhibits on the ground and first floors. The second floor remains closed while the Sea Science exhibition is completed.
But there is still plenty of amazing highlights from the history of Galway to be found inside, including exhibitions on the esteemed Irish writer Pádraic Ó Conaire, The Corrib: Myth, Legend & Folklore; and Caomhnóirí na nGael / Keepers of the Gael.
MONUMENT, developed in association with Galway 2020, is a multidisciplinary exhibition platform that brings together a wide range of collaborators to showcase the archaeology, architecture, cultural heritage and more associated with the monuments and the islands.
Assisted by the National Museum of Ireland,  MONUMENT features previously unseen material from the 1990s archaeological excavations at Dún Aonghasa, along with specially made pieces from a wide range of artistic disciplines that represent the contemporary craft of the area.
For a look at the importance of landmark moments in Irish history, and how they played out locally, check out evolution in Galway, 1913-1923 now showcasing recently acquired material relating to Galway revolutionary, James 'Seamus' Quirk, killed in Galway in 1920.
And of course, it wouldn't be the city museum, without an exhibition on the incredibly rich history of the growth and defining moments of Galway City itself.
Entrance is free, but tickets are required in order to get in. Book yours at www.galwaycitymuseum.ie for one of four daily time slots, 10am; 11.30am, 2pm and 3.30pm.
Tickets will need to be presented as a printout or on your mobile phone at the main entrance. Visitors are asked to review the museum's reopening guidelines when making their booking.