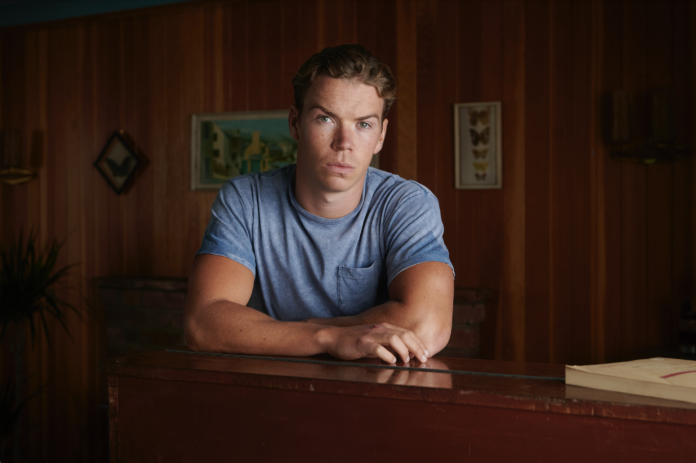 BAFTA-winning British actor Will Poulter is returning to the Galway Film Fleadh this year for the Irish premiere of his upcoming film The Score, directed by Malachi Smyth.
The musical heist film premieres this Saturday at 9pm in Pálás Cinema and the screening will be followed by a Q&A with Will Poulter and director Malachi Smyth.
The Score follows two small-time crooks, Mike (Johnny Flynn) and Troy (Will Poulter), who are on a mission to 'score' – which they believe will transform their circumstances.
At a roadside café, as they wait for the handover, Troy falls in love with the waitress, Gloria (Naomi Ackie), and begins to question his life choices while the threat of real danger is driving to meet them.
The Score combines real time heist-thriller suspense with offbeat romance and a killer soundtrack.
Poulter is no stranger to Galway – the actor first came during the 2014 Film Fleadh for the World Premiere of Glassland, in which he starred alongside Irish actor Jack Reynor.
Poulter stars in the Disney+ series Dopesick and the upcoming Marvel movie, Guardians of the Galaxy Vol. 3., and also starred in the acclaimed short film Bainne which took home the prize for Best Debut Fiction Short in 2019.
Poulter first gained recognition for his role in The Chronicles of Narnia: The Voyage of the Dawn Treader (2010).
He received further praise for his starring role in the comedy film We're the Millers (2013), for which he won the BAFTA Rising Star Award.
Poulter's other film credits include the science fiction film The Maze Runner (2014), the period epic film The Revenant (2015), the interactive science fiction film Black Mirror: Bandersnatch (2018), and the folk horror film Midsommar (2019).
The 34th Galway Film Fleadh takes place from 5th – 10th July in the Town Hall Theatre and Pálás Cinema, Galway.