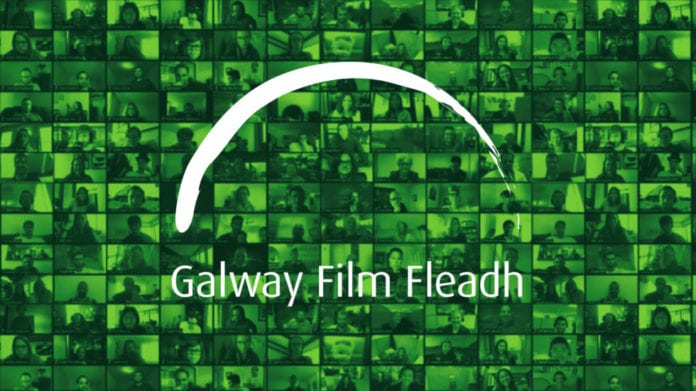 The 2022 Galway Film Fleadh is opening today, filling screens in the City as the festival marks its first year fully back in action since the pandemic.
The first films of the festival today are Joyride, a heartfelt and heart stopping Irish drama premiering at the Town Hall Theatre, followed by Shame//Less a documentary taking people on a journey through the queer underbelly of Dublin.
In Joyride, 12-year-old Mully has lost his mother and discovers his debt-ridden father stealing the charity money they've raised in her name.
Grabbing the cash, Mully steals a taxi and is shocked to find a woman, Joy, in the back seat with a baby.
Joy, played by Oscar winner Olivia Coleman, is a straight-talking solicitor who didn't expect to get pregnant, is struggling with motherhood and is planning to give her baby to a friend who will raise the child as her own.
She joins Mully on a wild journey across Ireland, stealing cars, hitch-hiking, catching ferries and breaking police barricades, and come to bond along the way.
From award-winning theatre and performance maker Stefan Fae, Shame//Less is an artistic response to the findings of "Culture and Sexual Risk: An Ethnographic Analysis of Gay Male 'Sexual Worlds' in Ireland Today."
Shot in Dublin's iconic Boilerhouse sauna, Shame//Less transports the viewer on a kaleidoscopic cruise through Dublin's queer underbelly.
The film invites you to peer through the glory hole of post-marriage equality Dublin and see if you like it like that. Does that feel good? How about there? Careful now, you might even enjoy it.
Both films will be followed by a Q&A with the people involved in the films.
That's just the opening evening of the Film Fleadh, as the next seven days to Monday, July 11 will see the Fleadh put on an ever expanding programme of feature length dramas and comedies, groundbreaking documentaries, and short films from talent to watch.
Check out the full programme for a glimpse of what's to come in the days ahead.
While the films are at the heart of Galway Film Fleadh, duh, that's not all there is to catch this week.
Starting from Thursday, the festival will also be hosting many Talks with industry experts covering every topic imaginable; from new technologies in film, to musical scoring, animation and live action, and many more technical and social issues.
The end of the Festival will see the best of those come to the west honoured at the annual awards ceremony for all categories, as well as the annual pitching competition for new talent.