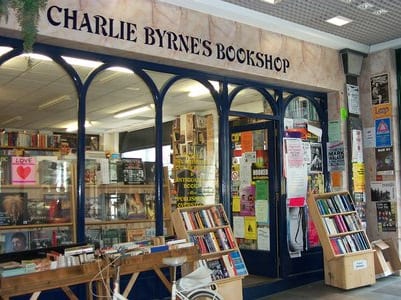 Over the Edge will present its 13th annual Fiction Slam next week at the beloved Charlie Byrne's Bookshop in Galway City.
The Fiction Slam will give writers of any calibre a chance to present their work, fictitious work, to an audience of Galway's arts lovers on Friday, July 15 at 6pm.
On top of the crowd participation, the three Featured Readers on the night will be David Green, Coirle Mooney, and Nina Oram.
David Green is an international best-selling writer of the epic and the urban, the fantastical and the mysterious.
With his character-driven dark fantasy series Empire Of Ruin, or urban fantasy noir Hell In Haven starring Haven's only supernatural PI Nick Holleran, David takes readers on emotional, character-driven, action-packed thrill rides that leaves a reader needing their next fix.
Hailing from the north-west of England, David now lives in Galway on the west coast of Ireland with his wife and train-obsessed son.
When not writing, David can be found wondering why he chooses to live in, and write about, places where it constantly rains.
Coirle Mooney is a novelist who grew up in the Burren Perfumery in a house full of fragrant books and now lives in Kinvara.
Her debut novel, The Lady's Keeper, set in Eleanor of Aquitaine's court, was published by Sapere Books. Her next book, The Cloistered Lady, came out just last month, and keeping the ball rolling, her third novel is due in September.
She is currently working on another novel set in Elizabethan London. She has always read widely and wrote her first murder mystery, Donald Duck is Dead, aged ten.
In a slightly more serious vein, she has worked as a Shakespeare and verse-speaking tutor and as an old and middle English tutor in UCC.
Originally from the UK, Nina Oram lives in Roscommon. Having fallen in love with County Sligo, she writes Folk Horror and Dark Fantasy inspired by mythology and ancient history, and her passion for the environment.#
Nina's YA Dark Fantasy, The Carrowkeel Series, set in the west of Ireland, is published with Luna Press Publishing, while her first adult novella, A Face in the Leaves, based on the legend of The Green Man, came out this February.
She was shortlisted in the British Fantasy Awards 2019, Best Newcomer, for the first book in her YA trilogy, The Joining. Nina is currently finishing her first adult novel, Folk Horror, The Crooked God.
The first twelve fiction writers to make it to Charlie Byrne's Bookshop on the evening of Friday, July 15 and register will be guaranteed a place in the slam.
If you want to be sure of a place, get there early! All participating writers should bring two pieces of their own fiction, as there are two rounds.
The time limit in both rounds is five minutes. Extracts from longer stories are admissible. Stories do not have to be memorised.